Equestrian Basic Safeguarding Awareness
Our

Equestrian Basic Safeguarding Awareness

online course is written specifically for anyone who works or volunteers within the equestrian world.  Developed in association with the British Equestrian Federation this course gives an introduction to child and adult protection procedures, including legislation, signs and indicators of abuse and how to report concerns.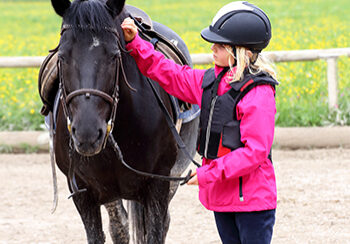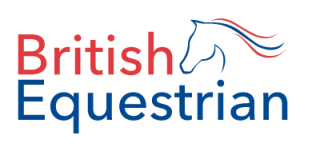 10+ courses - Save 10%
20+ courses - Save 15%
50+ courses - Save 20%
75+ courses - Save 25%
100+ courses - Save 30%
Volume discount applied at checkout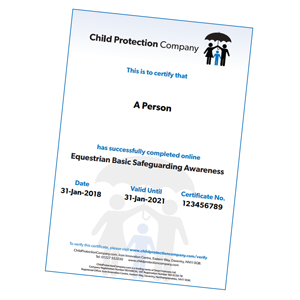 Equestrian Basic Safeguarding Awareness Course Content
The purpose of this first module is to help you to assess your current knowledge of safeguarding. You will look at a series of scenarios set in an equestrian environment, which will start you thinking about some of the ways in which you could encounter potential abuse and what actions you might take in response.
Sadly, abuse and neglect do happen in sometimes surprisingly large numbers. Often, children and adults at risk will find it hard to speak to someone about the abuse they are suffering, or they may have very few people who will listen. The stables may be the safe haven they need to encourage them to open up to someone about their situation. This module will look at what child protection and safeguarding adults actually means, preparing you should you find an individual discloses something to you, or if you suspect there is a problem. On completion of the module, you will have a much better understanding of keywords and phrases and how they relate to safeguarding and protecting children and adults. 
Safeguarding and protecting children, young people and adults at risk must operate within a framework of guidance and legal procedure. This module offers an overview of the framework of protection and how it is applied, and takes into account guidance from the British Equestrian Federation on your duty of care. Of course, you will not be expected to be able to quote detailed laws directly, but you will gain a general understanding of what they are. This module will also look at the organisations that may be part of safeguarding, their responsibilities and the guidelines for protection.
By the end of the module, you will have a much clearer understanding of safeguarding guidance, the associated agencies and the legalities of protection. The module also looks at the safeguarding roles within the Equestrian setting so that you are familiar with the different roles both locally and nationally.
To effectively detect, reduce and hopefully prevent abuse, we need to strictly define what it is and how it manifests itself. Understanding the categories of abuse will help you to recognise the tell-tale signs that it is taking place.
At the end of this module, you will have a better understanding of what we mean by abuse and what the specific areas of abuse are, and how to spot them.
People, regardless of age, often find it very difficult to talk about the abuse they are experiencing. The anxiety that they feel may manifest in different ways, such as displays of challenging or changed behaviours, and we need to be able to recognise these signs of abuse. Abusers are often adept at covering their tracks and may appear to be very caring people, so recognising the signs of abuse can often be the first alert to a situation.
At the end of this module, you will be more familiar with the definitions of abuse and the signs and indicators of the different types of abuse.
The focus when working on safeguarding or dealing with potential abuse must be the safety of the child or adult at risk who is experiencing the abuse. Taking a person-centred approach places the possible victim at the heart of your safeguarding and helps reduce the time taken to get help where it is needed
The learning you complete in this module will include example scenarios in realistic and equestrian situations, so that you can see how a person-centred focus can be achieved.
By the end of this module, you will have a better understanding of what it means to be person-centred in your approach.
This part of the course builds on the work we did in module three, where we looked at effective consultation between agencies and the increased understanding of the signs of, and the different types of abuse we discussed in modules four and five. People can disclose in a number of ways, so, while you want to maintain confidentiality where appropriate, you also need to know when to report and to whom. It is vital that you respond quickly and appropriately when presented with a disclosure of abuse, and this module will cover the right process to follow and what to do (and what not to do) to achieve the desired outcome.
By the end of this module, you will have a better understanding of the correct procedures to follow in response to a potential abuse situation and will know what to do if you have concerns about the behaviour of an adult.
Using a range of scenarios, you will now take all that you have learned and apply it to an assessment of your knowledge. The final assessment is your opportunity to show how much you have absorbed and why it is so important to have safeguarding training.
Once you have passed your assessment, you will be able to download your certificate. Your pass rate will be 80% but don't worry if you do not pass the first time, as you can take the test multiple times.

"I was impressed with this course. It had a great balance between adults and children safeguarding and was easy to follow and understand. The questions made sense and they were not designed to trick people or confuse you. Overall it was a really good course."
Nikki Daly, British Showjumping

"Excellent training and course content, highly recommended."
John Collier, Blackdyke Farm Riding and Competition Centre
Instant access to courses
Training can be taken any time, anywhere – no need for volunteers to even be on site
Takes between 1-2 hours to complete
Courses can be taken 24/7 online or on mobile devices
Less expensive than face-to-face training
No need to take time out of work to undertake training
No requirements for minimum or maximum group sizes
Retrieve centrally held online certificates at the touch of a button
Individual, personalised certificates can be downloaded and printed
Automated reminders when training is due for renewal
Courses can be stopped and restarted at any point
Course notes and resources available for the duration of certification
Downloadable Excel reports so you can monitor completion
Friendly, UK-based customer support centre in case you have any queries
Regularly updated to meet legislation changes
Regional variants available for England, Scotland, Wales and Northern Ireland
Provides information, scenarios and downloads specific to the equestrian sector
Equestrian Basic Safeguarding Awareness FAQ
The Equestrian Basic Awareness online training course can be taken by anyone involved in the equestrian sector as an alternative to face-to-face training at the introductory level.  However, if you are working as a professional in the equestrian sector then one of our Equestrian Advanced Safeguarding courses may be more appropriate for you.
This course covers the safeguarding requirements for England, Scotland, Wales and Northern Ireland. When you begin the course, you will be offered a choice of location. Your learning channel is designed to meet the needs of local legislation and guidance depending on the country you select.
The content of the course draws on appropriate guidance from sources, such as:
Working Together to Safeguard Children
National Guidance for Child Protection in Scotland
Getting it Right for Every Child
Safeguarding Children – Working Together Under the Children's Act 2004 (Wales)
Co-operating to Safeguard Children and young people in Northern Ireland
Yes, the Equestrian Basic Awareness training is a combined course covering both child safeguarding and safeguarding adults at risk.
Why not try another course?
£30.00 + VAT per course
Discounts apply for multiple purchases
An advanced online safeguarding training course written specifically for equestrian coaches/instructors in association with the British Equestrian Federation.
£35.00 + VAT per course
Discounts apply for multiple purchases
An online safeguarding training course written specifically for equestrian Safeguarding Officers/Welfare Officers in association with the British Equestrian Federation.
Why use our Learning Management System?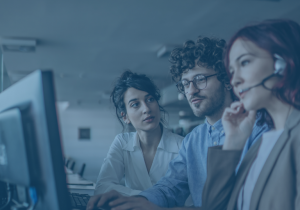 Call us today at 01327 552030!
Or, alternatively: