Child Protection for Equestrians - Refresher
£28.95 + VAT per course
Discounts apply for multiple purchases, see pricing table below
An online safeguarding training course for professionals working in the equestrian sector. Written in association with the British Equestrian Federation for equestrians who have previously attended face-to-face safeguarding training. The online course builds upon knowledge of legislation, signs and indicators of abuse, child protection procedures and reporting concerns.
This course has been replaced with the Equestrian Advanced Safeguarding course.  Please click here for more details.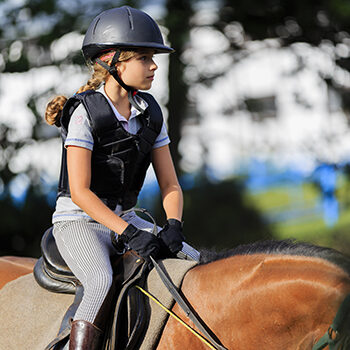 Management System
Our online learning management system has been built to solve the problem of maintaining central records for all safeguarding and child protection training and ensuring that everyone's training is current and up-to-date. If an inspecting body wants to check your records, simply use our website to display a full record of your training certificates.
You can also set up automatic reminder emails to ask your users to take or retake training. You can tailor these emails and the timings for sending and you can even specify that the email appears to come from yourself. Once enabled, the training system will manage all of the chasing for you.
This safeguarding refresher course has been written for equestrian professionals who have attended face-to-face safeguarding training previously. It builds upon the knowledge you will have gained from past training courses. The British Equestrian Federation requires that professionals have attended a BEF face-to-face safeguarding course within the last 3 years prior to taking the refresher course. If you are an equestrian volunteer, our Child Protection for Equestrian Volunteers online training course can be taken as an alternative to face-to-face training.
This child protection course covers the safeguarding training requirements for England, Scotland and Wales. When you begin the course, you will be offered a choice of location. Your learning channel is designed to meet the needs of Ofsted, Education Scotland and Estyn, depending on the country you select.
The content of the course draws on appropriate guidance from sources, such as:
Working Together to Safeguard Children
National Guidance for Child Protection in Scotland
Getting it Right for Every Child
Safeguarding Children – Working Together Under the Children's Act 2004 (Wales)
Please note: Northern Ireland operates under a different framework, so please ensure you contact your Local Safeguarding Children Board (LSCB) or Child Protection Committee to ask what is required in your area.
"I actually found this better than the face-to-face course I did three years ago. Examples were good, challenging at times but relevant."
G. Mudd, The Pony Club
Instant access to courses
Training can be taken any time, anywhere – no need to even be on site
Takes between 1-2 hours to complete
Courses can be taken 24/7 online or on mobile devices
Less expensive than face-to-face training
No need to take time out of work to undertake training
No requirements for minimum or maximum group sizes
Individual, personalised certificates can be downloaded and printed
Centrally-held certificates for organisations can be retrieved at the touch of a button
Automated reminders when training is due for renewal
Courses can be stopped and restarted at any point
Course notes and resources available for the duration of certification
Downloadable Excel reports so you can monitor completion
Friendly, UK-based customer support centre in case you have any queries
Regularly updated to meet legislation changes
Regional variants available for England, Scotland and Wales
Provides information, scenarios and downloads specific to equestrians
Certification
Upon successful completion of the course, you'll be able to download a personalised training certificate valid for 3 years.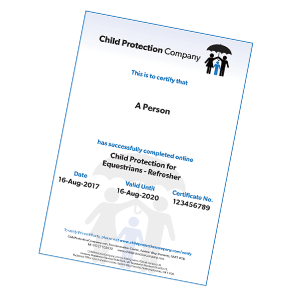 This course is designed to refresh your training in safeguarding and child protection while encompassing the content of the British Equestrian Federation (BEF) guidelines. As someone who is likely to regularly come into contact with children and young people, the content will help you to recognise potential abuse and give you the knowledge to take appropriate action to report an incident.
On completion of this course, the learner will:
Relate to the range of legislation and guidance surrounding safeguarding and the protection of children and young people
Demonstrate an understanding of statutory and non-statutory roles in protecting children
Describe your own role and responsibilities in relation to safeguarding and child protection
Define the different types of child abuse and the associated indicators
Ensure that good practice with regard to safeguarding and child protection is embedded within your working practices
Be able to deal with safeguarding concerns and referrals
Ensure access to adequate advice, support, information, instruction and training for yourself and others you may be working with
Be able to respond to allegations and complaints
This module is intended to remind you of the legislation and guidance that is incorporated into the practice of the British Equestrian Federation child protection policy. It will also remind you of the key descriptions and words used to inform the understanding of child abuse. At the end of the module, there will be a short quiz to help you assess your current knowledge.
Abuse and neglect happen in surprisingly large numbers. Often, children will find it hard to speak to someone about the abuse they are suffering, or they may have very few people who will listen. Being around horses may create the safe haven they need to open up to someone about their situation. This module will look at the 4 major categories of abuse, the indicators that abuse is happening, how to recognise the signs of abuse, and some methods of disclosure you may encounter.
The focus when working on safeguarding or dealing potential abuse must be the safety of the child or young person. Remaining child-centred is key to the process of identification and reporting because sadly, children sometimes report several times before any action is taken. The learning you will complete in this module is contextualised in a realistic situation so that you can see how a 'child focus' can be achieved.
By the end of this module, you will have a better understanding of what it means to be child-centred in your approach.
Children can disclose in a number of ways, so while you want to maintain confidentiality where appropriate, you also need to know when to report and to whom. It is vital that you respond quickly and appropriately when presented with a disclosure of abuse, and this module covers the right process to follow, including what you should and shouldn't do to achieve the desired outcome.
By the end of this module, you will have a better understanding of the correct procedures to follow in response to a potential abuse situation and/or if you have concerns about the behaviour of an adult. A step-by-step guide is included, which will help you to refer any concerns you may have.
Around 80 children die in the United Kingdom each year from abuse or neglect, and the circumstances surrounding these fatalities are often complex. Each incident informs the assessment framework and makes it more likely that we will be able to identify and help the vulnerable more adequately in the future.
By the end of this module, you will be more familiar with 'Every Child Matters', the Common Assessment Framework and similar guidance.
The Lead Welfare Officer and Nominated Welfare Officer play a key role in the wider context of safeguarding. This module looks at the role played by the LWO/NWO in the reporting and safeguarding process, as well as the expectations of the role.
The importance of early and effective communication cannot be underestimated in the safeguarding process. This module looks at what constitutes good practice for the effective sharing and recording of information, and the 'seven golden rules' of information sharing.
The LWO/NOW is the central point when it comes to working with other agencies, both statutory and non-statutory. This module explores who the agencies are and how they work together to provide effective safeguarding. By understanding the role played by each agency and the multi-agency approach taken, you will be able to play a more effective safeguarding role.
Should a complaint arise about a potential shortcoming in the protection process or a similar related situation, it is important that the issue is dealt with in an even, consistent and confident manner. This module looks at the practice of dealing with a complaint or allegation and the process surrounding good practice.
Using a range of scenarios, you will now take all that you have learned and apply it to an assessment of your knowledge. The final assessment is your opportunity to show how much you have absorbed and why it is so important to have child protection awareness training.
Once you have passed your assessment, you will be able to download your certificate. The pass rate is 70% but if you do not pass the first time, you can take the test multiple times.
Total Cost (ex VAT)
£30.00
£270.00
£510.00
£1,200.00
£1,687.50
£2,100.00
Total Cost (inc VAT)
£36.00
£324.00
£612.00
£1,440.00
£2,025.00
£2,520.00
Cost Per Course (ex VAT)
£30.00
£27.00
£25.50
£24.00
£22.50
£21.00
Number of Courses:
1
Total Cost (ex VAT): £30.00
Total Cost (inc VAT): £36.00
Cost Per Course (ex VAT): £30.00
Number of Courses:
10
Total Cost (ex VAT): £270.00
Total Cost (inc VAT): £324.00
Cost Per Course (ex VAT): £27.00
Number of Courses:
20
Total Cost (ex VAT): £510.00
Total Cost (inc VAT): £612.00
Cost Per Course (ex VAT): £25.50
Number of Courses:
50
Total Cost (ex VAT): £1,200.00
Total Cost (inc VAT): £1,440.00
Cost Per Course (ex VAT): £24.00
Number of Courses:
75
Total Cost (ex VAT): £1,687.50
Total Cost (inc VAT): £2,025.00
Cost Per Course (ex VAT): £22.50
Number of Courses:
100
Total Cost (ex VAT): £2,100.00
Total Cost (inc VAT): £2,520.00
Cost Per Course (ex VAT): £21.00