Child Protection for Childminders
An online safeguarding training course specifically for Childminders and their assistants, covering essential topics such as legislation, online safety, anti-radicalisation, indicators of abuse and neglect, and how to report concerns.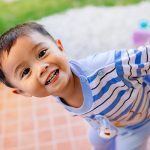 5+ courses - Save 5%
10+ courses - Save 10%
20+ courses - Save 15%
50+ courses - Save 20%
100+ courses - Save 30%
Volume discount applied at checkout

I felt this worked for me as when I have been to courses in the past, I felt I missed things. Whereas with this I could take my time and take in all the information in my own time.
Natalie Baker, Childminder

Excellent course, very informative with option to read/study more in-depth information at own leisure. Very useful downloads too.
Kathleen Travers, Childminder
Management System
Our online learning management system has been built to solve the problem of maintaining central records for all safeguarding and child protection training and ensuring that everyone's training is current and up-to-date. If an inspecting body wants to check your records, simply use our website to display a full record of staff training certificates.
You can also set up automatic reminder emails to ask your users to take or retake training. You can tailor these emails and the timings for sending and you can even specify that the email appears to come from yourself. Once enabled, the training system will manage all of the chasing for you.
Yes, the child protection course contains detailed modules on recognising signs of abuse and neglect and reporting concerns. It addresses the unique issues that arise from being a lone worker.
Our Child Protection for Childminders course has been written specifically to meet the needs of Childminders and their assistants. Each of you will need to take the child protection training individually. When you're registering, make sure you set up your account as an organisation. That way, you can add other members of staff to your account. If you have already registered and want to convert your account to an organisation, just give us a call and we can do that for you.
Our Child Protection for Childminders course has separate modules on anti-radicalisation and the Prevent duty, as well as  e-Safety training, which fulfils the safeguarding outcomes as specified by Ofsted. It is essentially three safeguarding courses in one, saving you both time and money.
The safeguarding training levels no longer apply to Childminders, however this comprehensive course equates to the old Level 2 standards.
"I found this course very informative and easy to use and would highly recommend it to anyone childminding in England or Wales. The staff at ChildProtectionCompany.com were very helpful when I encountered a problem of my making. On the whole it was a very good course."
Feonagh Grant, Childminder
Instant access to courses
Takes between 1-2 hours to complete
Courses can be taken 24/7 online or on mobile devices
Less expensive than face-to-face training
No need to take time out of work to undertake training
Essentially 3 courses in 1, covering all major safeguarding requirements
Retrieve centrally held online certificates at the touch of a button
Individual, personalised certificates can be downloaded and printed
Automated reminders when training is due for renewal
Courses can be stopped and restarted at any point
Course notes and resources available for the duration of certification
Friendly, UK-based customer support centre in case you have any queries
Downloadable Excel reports for organisations to monitor everyone's progress
Regularly updated to meet legislation changes
Regional variants available for England, Scotland and Wales
Provides information, scenarios and downloads specific to Childminders and their assistants
Certification
Upon successful completion of the course, you'll be able to download a personalised training course certificate valid for 2 years.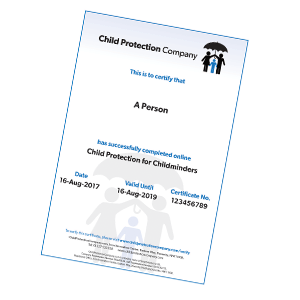 Total Cost (ex VAT)
£30.00
£270.00
£510.00
£1,200.00
£1,687.50
£2,100.00
Total Cost (inc VAT)
£36.00
£324.00
£612.00
£1,440.00
£2,025.00
£2,520.00
Cost Per Course (ex VAT)
£30.00
£27.00
£25.50
£24.00
£22.50
£21.00
Number of Courses:
1
Total Cost (ex VAT): £30.00
Total Cost (inc VAT): £36.00
Cost Per Course (ex VAT): £30.00
Number of Courses:
10
Total Cost (ex VAT): £270.00
Total Cost (inc VAT): £324.00
Cost Per Course (ex VAT): £27.00
Number of Courses:
20
Total Cost (ex VAT): £510.00
Total Cost (inc VAT): £612.00
Cost Per Course (ex VAT): £25.50
Number of Courses:
50
Total Cost (ex VAT): £1,200.00
Total Cost (inc VAT): £1,440.00
Cost Per Course (ex VAT): £24.00
Number of Courses:
75
Total Cost (ex VAT): £1,687.50
Total Cost (inc VAT): £2,025.00
Cost Per Course (ex VAT): £22.50
Number of Courses:
100
Total Cost (ex VAT): £2,100.00
Total Cost (inc VAT): £2,520.00
Cost Per Course (ex VAT): £21.00