Ofsted and Safeguarding 2015 – Part Four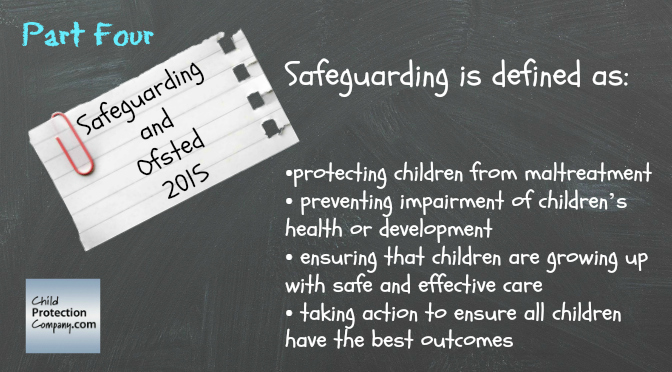 In the fourth instalment of our short series on Ofsted and safeguarding, we look at what Ofsted expect children to know in relation to safeguarding, and give you some further reading on safeguarding topics .  Don't worry if you've missed the previous instalments as they can be accessed here:
Part Two
Part Three
Children and safeguarding
Children should be able to identify a trusted adult with whom they can share any concerns and know what to do if they don't feel protected or safe. Written records must be held securely and shared appropriately. Evidence will show that child protection or safeguarding concerns are shared immediately with the relevant people and records maintained in accordance with school policy.
Children are helped to keep themselves safe from bullying, homophobic behaviour, racism, sexism and other discrimination.
Discrimination is challenged and children are taught how to treat others with respect. Children feel safe as staff give clear boundaries about what is safe and acceptable.
Further reading on safeguarding
Inspecting safeguarding in early years, education and skills from September 2015
Keeping children safe in education, Department for Education, 2015
Working together to safeguard children, Department for Education, 2015
Disqualification under the Childcare Act 2006