How to move towards 'Outstanding' – Part 1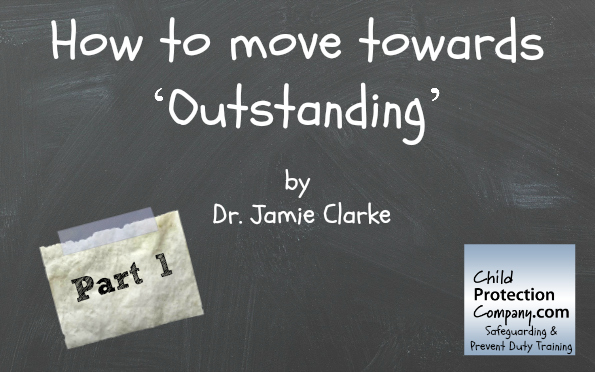 Getting to outstanding is a big task but possible for all schools given that the latest Ofsted inspection framework is overwhelmingly related to demonstrating high rates of pupil progress. This article is the first in a series that will explore what it means to be outstanding.
Outstanding – what you will be judged on
The Ofsted definition is that the four areas of Outcomes, Teaching Learning & Assessment (TLA), Personal Development Behaviour & Welfare (PDBW), Leadership & Management (L&M) are all judged to be outstanding (exceptionally, one of these – except TLA – can be good). In addition, Spiritual Moral Social & Cultural (SMSC) aspects must be strong and Safeguarding effective. If there is a Sixth Form, this generally needs to be outstanding as well.
How do I know if it is outstanding?
Essentially, this is an outcomes led model – that is outcomes over time including historic ones but more importantly, current progress and attainment. So getting outcomes, and this means rates of progress, really high is the key! The new Progress 8 measure for secondary schools will be very significant in the future as the 5A*-C including English and Maths attainment one disappears.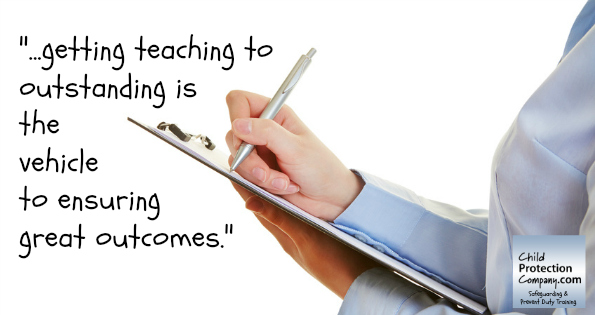 What outstanding outcomes look like in summary
'Substantial and sustained' progress that is above average in English & maths and almost all other curriculum areas with the proportion of pupils making expected and more than expected progress in English and maths being high. This is for pupils in all year groups (not just Y6 or Y11)
Disadvantaged pupils are making progress that matches or is improving towards that of other pupils nationally – note that 'other' here means national non-disadvantaged pupils, a high target
Attainment of almost all groups (DP, SEND, EAL, most able, etc) is broadly in line with national averages
Note that progress is from the 'starting points' of pupils – this takes into account the prior attainment and age when evaluating progress of 'current' attainment.
What leads to outstanding outcomes?
Great teaching according to Ofsted! So getting teaching to outstanding is the vehicle to ensuring great outcomes. So what does outstanding TLA look like for Ofsted?
Key features of outstanding teaching, learning and assessment
Teachers have deep knowledge and understanding of the subjects they teach
Lesson planning that challenges all groups of pupils to make great progress but also includes time to practice and embed knowledge, understanding and skills to a very high level
Teachers introduce subject content progressively and constantly demand more of pupils, identifying and supporting any pupil who is falling behind, and enables almost all to catch up
Questioning that really develops understanding and thinking rather than just knowledge
Teachers check pupils' understanding 'systematically' in lessons and then provide clearly directed and timely support
Teachers embed reading, writing & communication and maths exceptionally well across the curriculum, equipping all pupils with the necessary skills to make progress
Teacher feedback (marking and in the lesson) is used incisively to check understanding and provide next steps in learning that pupils respond to effectively (e.g. pupils given time to meaningfully respond to 'next steps' following marking of a piece of homework)
Challenging homework is set that consolidates and deepens learning and is relevant to each pupil – not just 'more of the same'
Teachers are determined that pupils achieve well and consequently, pupils love learning, they are eager to know how to improve further, resilient to failure, curious and 'thrive in lessons'
Parents are provided with clear and timely information on how well their child is progressing and in relation to the standards expected – parents are also given guidance about how to support their child to improve
Plan of Action
Below is a suggested list of strategies that will help the school move towards being outstanding:
Ensure all teaching is great, all the time, for all pupils, in all year groups, and for groups of pupils such as disadvantaged pupils (FSM), EAL, most able, SEND, etc.
Get your assessment system in place
Ensure data leadership and management are robust, available to all teachers and leaders readily in a helpful way; target setting is challenging enough to enable high rates of progress and that the frequency of collecting current/predicted levels/grades is supportive
Put in place appropriate intervention strategies (don't forget Catch-up in English and maths)
Need to ensure opportunities are explicit for SMSC, British values, etc.
Ensure safeguarding is effective (being 'terrier-like' to ensure children are safe) including PREVENT training and awareness, pupils knowing about radicalisation/extremism.
This article has described the key features of being Ofsted 'Outstanding' and begun to tease out the steps that are needed to achieve this. It has largely ignored PDBW since generally really good teaching that occurs consistently reduces the opportunities for less good behaviour. Other aspects of PDBW do need attention and I will address these, along with greater clarity on the topics outlined in the plan of action in future articles.
We can all strive to be outstanding and this latest Ofsted inspection framework allows us to do this with its greater focus on pupil progress.