Ofsted and Safeguarding 2015 – Part Three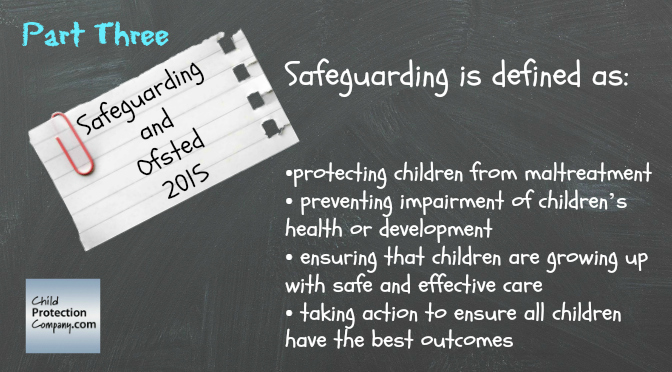 In the third instalment of our short series on Ofsted and safeguarding, we explore the role school governors play.  Don't worry if you've missed the previous instalments as they can be accessed here:
What do governors need to know?
Governors are responsible for ensuring that policies are put in place and regularly reviewed. These should include procedures detailing how to deal with allegations against staff, volunteers or other children.
Policies must name the designated safeguarding lead person. Governors must ensure that regular training takes place and that at least one person on every appointment panel has undertaken safer recruitment training.
Governors should have an understanding of the need to prevent people from being drawn into terrorism. They should ensure checks (i.e. for extremism), are carried out on all visitors who intend to work with staff or children and those who wish to address assemblies and that visitors.   Volunteers in school must be properly supervised.
Governors need to check that staff feel confident to challenge leaders over safeguarding concerns and know how to do this. They must check that children are taught how to keep themselves safe and that there are robust procedures in place for children who go missing.
How can governors access safeguarding training?
Some schools offer in-house training or use an external trainer.  A great alternate to both is to use online training.  We have a number of safeguarding courses written specifically for the education sector, with over 700 schools (to date) using our courses to train their staff.
Courses of specific interest to schools include:
Safeguarding in Education: In September 2015 Ofsted significantly raised the bar where safeguarding is concerned and in response, we created our new Safeguarding in Education course. Essentially the equivalent of three courses in one, it covers Ofsted's recent changes to safeguarding (September 2015), the inclusion of the Prevent Duty (July 2015) and potential online safety risks.
Awareness of Prevent Duty: From 1st July 2015, schools and education providers have been required to prevent young people from being drawn into terrorism. Staff must know how to identify children who are at risk of radicalisation and what to do if children are identified. This online training course has been specifically written to address these needs.
e-Safety and Social Media: Our updated e-safety course now contains detailed chapters addressing social media and online radicalisation. This course will assist schools in fulfilling Ofsted's requirement for all staff to receive regular e-safety training.
We also offer an unlimited licence package for larger schools at a very competitive price. To find out more about our courses and licence deals, email us on help@childprotectioncompany.com or call us on 01327 552030.
Next time: Children and safeguarding