Nursery Show 2018: Our CEO's Roundup!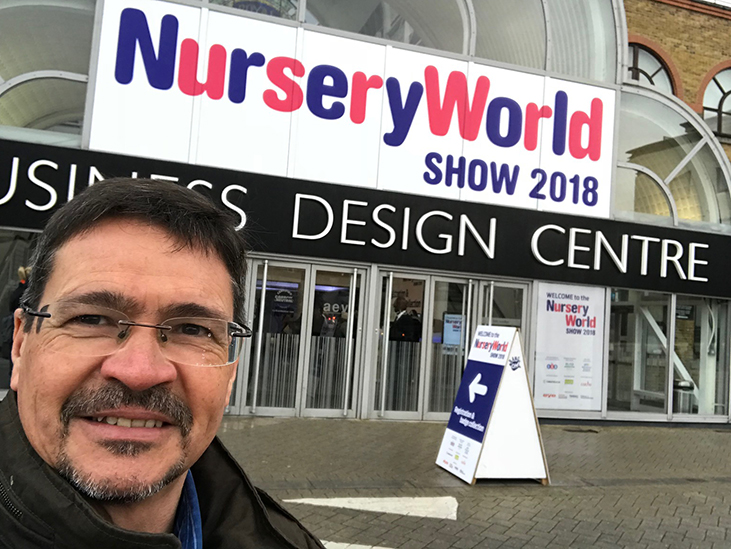 Our CEO Mark Foster had an excellent time at the Nursery Show 2018. The show was well attended and there was lots of interest in our child protection courses, and in particular our online prevent training. Here's what Mark has to say about his day out:
'It's always great to attend a show which has such a tight focus as, although it's small, everyone there is involved in Early Years in one way or another. It's also nice to attend a show that's not in Exel or the NEC for a change!
Coming from up north, the London Design Centre was just two stops round the Northern Line and then a five-minute walk through the shopping centre of Angel. Unfortunately, on Saturday it was a bit grey and drizzly, but the antics of the locals helped to brighten the day—it's not often you see a car being driven with a flat tyre as though there's absolutely nothing wrong, or two gentlemen having a slanging match across a busy street because one knocked the other's arm as they crossed on the pedestrian crossing. It's certainly different to sleepy Northamptonshire!
Once in the show and with a freshly printed badge, it was off to spend five minutes reading the show guide while slowly drying out over a cup of coffee. There were a number of interesting sessions during the day that visitors could dip in to, although some were quite busy.
Safeguarding training rightly remains a hot topic in the Early Years sector, as evidenced by the number of meetings held. For us, having a child protection course specifically written for the Early Years sector didn't hurt either. It was also good to see Cache there in force, and their red 'giveaway' bags were swinging from a lot of arms at the end of the day and even on the train home at the end of the afternoon.
Next stop: Liverpool for Nursery World North in May!'