Child Protection Training for Equestrians
If you are a professional or volunteer working closely with children in the equestrian sector, the ChildProtectionCompany.com has a safeguarding training course just for you!
Our Introduction To Child Protection for Equestrian Volunteers, and our Child Protection for Equestrians – Refresher online training courses are developed in-house by child protection experts, in association with the British Equestrian Federation, to align with the current government guidance for child protection, including the 2018 updates to 'Working Together to Safeguard Children 2015'.
The ChildProtectionCompany.com's online courses are ideal for busy equestrians, as they can be paused and resumed at any point—so, if you don't think you'll finish the module you're working on in that short space of time between mucking out and your first riding class of the day, there's no need to worry! Our training is flexible to suit your individual needs.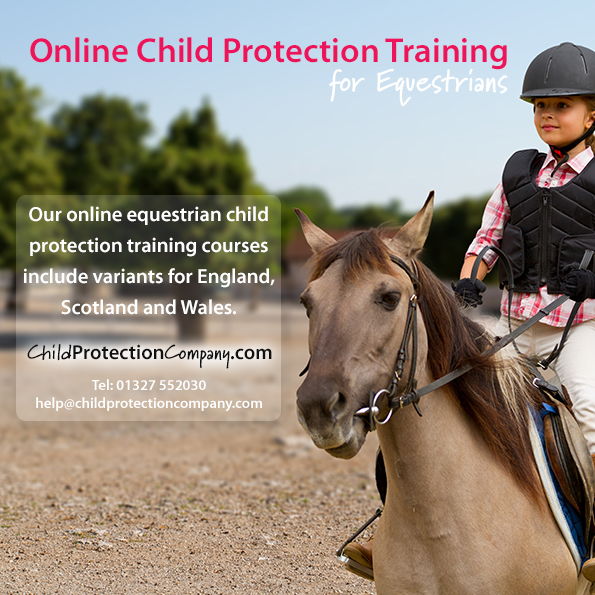 Our equestrian-specific online child protection training courses take between 1-3 hours to complete in full. At the end of our easy-to-navigate modules you will be given an assessment to test understanding, which you need to score 70% or above in to pass. You can go back and take the assessment again free of charge as many times as you need.
Upon completion, you will receive a personalised training certificate, which you can either download and keep on file, or print and present to inspectors. You will continue to have access to the whole course content, associated links and downloads for the duration of your certification, allowing you to refresh your knowledge at any time.
Each of our child protection training courses for equestrians costs just £27.90 (inc. VAT) per course, with discounts applied for orders of more than one course.
If you are interested in our training and would like to find out more, please browse our website or get in touch by calling 01327 552030, or emailing help@childprotectioncompany.com today.