Routes into Teaching: SCITT, PGCE or School Direct?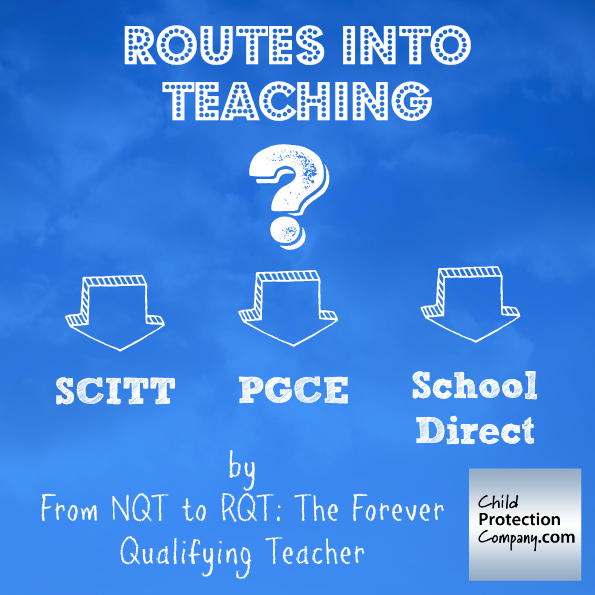 So, should you choose SCITT, PGCE or School Direct? What does it all mean?
There are so many training routes into teaching these days it's difficult to know which one is best. Now, I'm not going to profess that I fully understand the differences between all of the various routes that currently exist but I can let you know the experience I have had through School Direct Salaried – yes there's even two School Direct routes – and the more traditional PGCE.
As a School Direct Salaried student, I think I managed to secure a good route into teaching. Firstly, and some might argue one of the best advantages, is that I was paid a salary and did not have to pay tuition fees for the PGCE element of my course – just the Master's element. So that was around £2000, still a significant chunk of money but nothing compared to those paying £9,000 to have the privilege of working really hard and teaching! Secondly, I was attached to one school for the majority of my training, only having to step out for a half term to get a glimpse into the workings of another school. Some may argue that this isn't necessarily a good grounding and that the PGCE route – which offers two separate school placements during your training – is actually better as you get to experience potentially two very different schools.
The reason I would argue that that the School Direct is, in fact, better is the ability to be respected as a teacher because you have the consistency of always being there; the expectation, particularly on salaried SD students, is that you are a member of staff. I never experienced the trainee teacher moments with those difficult classes because I was never seen as a trainee – I was teaching my own timetable from the start! Now this might seem scary to some younger trainee teachers but for someone who is approaching middle age, it didn't really phase me. In fact, it was one of the parts of being a trainee I enjoyed; I was literally thrown in at the deep end and for me, that is by far the best way to learn. A little bit like when you learn to drive – after the test has been passed and your instructor is no longer your trusty assistant in the car!
PGCE students have, I believe, a much tougher job. Firstly they have two sets of school systems to get to grips with and a much shorter time to do it in. While, undoubtedly they experience more variation, they do not have the same amount of time to really get to grips with the procedures – and let's face it there are lots these days – involved in teaching. School Direct students are able to get a much clearer handle on what's involved in being a teacher day-to-day as they are not contending with learning different school rules. Also, you can build really strong relationships with the students you are teaching as you are there for the majority of the time, and this is one of the best parts of teaching! Although, on the flip side, it does make it somewhat tougher to go and do six week placement in another school as you really have very little opportunity to get settled.
There is also a difference between salaried and non-salaried School Direct. The non-salaried trainees don't get an immediate timetable and work up their hours possibly a little slower – they still do the second placement.
PGCE students seem to always be faced with having the 'real' teacher in the room with them. Now this can be advantageous as it gives you a sense of security and can, of course, be helpful when facing a particularly tough class. It can also support you in getting regular feedback on your teaching and how to improve as someone is around to see what you are doing. So there are advantages to the PGCE route.
However, what really does not seem to matter whichever route you choose is the educational aspect of the training. I went to University once a week with my PGCE counter-parts. We listened to the same lectures, attended the same subject studies and visited the same SEN specialists. So from what I can tell the taught part of any teacher training seems to stay the same. We all had to hand in the same amount of assignments and take part in the MA level essays and action research. So I guess it comes down to a few things – can you afford to do a PGCE? Would you rather be standing in a classroom with support or do you want to get on the road to being a teacher by feeling like a teacher straight away?
There isn't a right or wrong answer and I believe School Direct Salaried roles are a little tougher to get hold of than a straight-forward PGCE but you should definitely think carefully about the kind of experience you want to have. Ultimately you will become a forever training teacher no matter route you take!