Marking: 5 ways you can streamline your feedback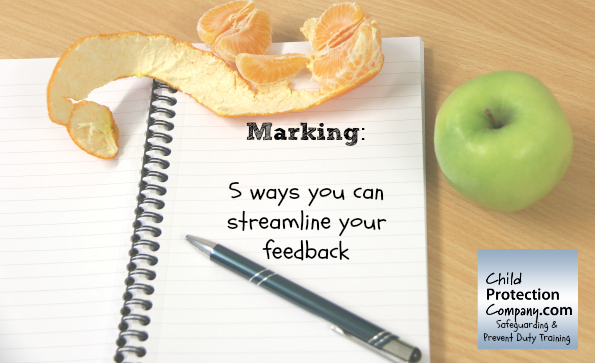 Speak to most teachers and they'll tell you that one of the most time consuming parts of the job is marking.
Despite being the linchpin of AfL, sadly marking is often done 'just for the sake of it' with little thought about how those hours and hours of written comments will translate into something that has a direct impact upon students' learning or ability to improve.
Having spent the majority of my teaching career working with exam groups (GCSE, A level, Common Entrance),  I have tried numerous different marking strategies in order to minimise time consumption and maximise impact upon students' learning.  Some have worked well , others not so well and some, well let's just say they have just been a complete and utter fail.  Often, the simplest methods have proved to be the most effective.
In this post, I thought I would share a few of my favourites:
Verbal feedback.  When it comes to feedback, having a direct dialogue with students about their work  is probably the most immediate (and simplest!) form of feedback.  I tend to favour the approach where students are given a few pointers , which they then write down in their own words next to a 'verbal feedback' stamp.  This has a dual purpose.  Firstly, it means feedback can be given quickly without getting caught up in the minutiae of marking every single issue (i.e. missing punctuation, capital letters) and secondly, it means that students have to really listen to what you are saying in order to make their own notes on how to improve.
Peer assessment.  This is a great feedback tool when done properly.  Students do need clear pointers otherwise you'll end up with comments like 'great work' or 'neat handwriting'.  Try displaying the success criteria or mark scheme on the board and ensure that students use these when making their comments.  This tends to work best with older students (GCSE, A level), and can be done as a book swap with a partner or as a class discussion where a range of students' work is projected one at a time
Two stars and a wish.  Surprisingly, this works just as well with older students as it does with the younger ones!  You can even buy stampers that have the symbols for two stars and a wish, which you can write your comments next to.  Again, I would advise that these are linked to the success criteria/marking scheme in order to have real impact.
Marking work for specifics.  Rather than covering students' books in copious amounts of red/green/purple (*insert colour of marking pen here) ink, explain to students that you are only looking for one or two elements.  This can encompass a wide range and level of skills, from finding evidence of interrogative analysis in an A level essay to checking whether the words from last week's spelling test are used correctly in this week's piece of creative writing.
Colour coding.  Again, this one works a treat when you have a mark scheme/success criteria accessible for the class to use.  Get students to use different coloured highlighters to demonstrate areas in their work that evidence the skills from the mark scheme/success criteria.  They can also highlight areas they need to work on and even set themselves targets based on what they need to do in order to improve.