Ofsted and Safeguarding 2015 – Part Two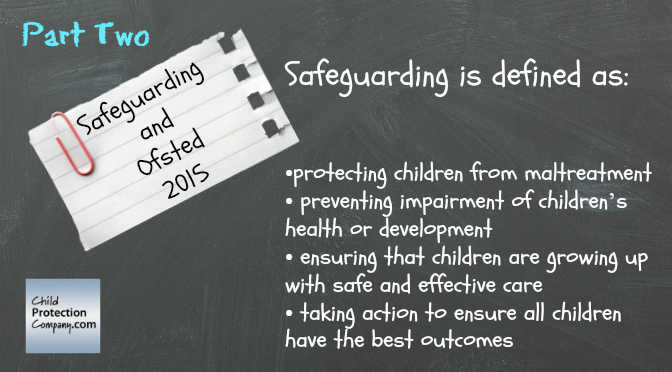 In the second part of our short series on Ofsted and safeguarding, we look at what the adults working in schools need to know.  Don't worry if your missed Part 1, as you can access it here.
What do adults working in a school or education setting need to know about safeguarding?
Safeguarding policies should be effective and understood with adults aware of their responsibilities. The lead person must effectively pursue concerns in order to protect children. Adults are expected to know and understand the indicators that may suggest that a child is suffering, or at risk of suffering, abuse, neglect or harm and what actions to take. They should be aware of Disqualification under the Childcare Act 2006.
Staff and volunteers must be selected and vetted according to statutory requirements. There needs to be clear arrangements for staff training. Inspectors will check the single central record, and how visitors are checked and monitored, early in the inspection. If there are minor administrative issues the school is still able to fill these in before the end of the inspection.
Adults must understand the risks to those who use technology, including the internet, to bully, groom, radicalise or abuse children. The Counter-Terrorism and Security Act 2015 requires staff to have due regard to the need to prevent young people from being drawn into terrorism.
Action must be taken to prevent and tackle discriminatory and derogatory language, including racist and homophobic language or language that is derogatory about disabled people. Positive behaviour should be promoted consistently and adults able to use effective de-escalation techniques. Evidence should show that incidents are reviewed, recorded and monitored, including the views of the child and that adults support children to make the right choices.
How can staff access safeguarding training ?
Some schools offer in-house training or use an external trainer.  A great alternate to both is to use online training.  We have a number of safeguarding courses written specifically for the education sector, with over 700 schools (to date) using our courses to train their staff.
Courses of specific interest to schools include:
Safeguarding in Education: In September 2015 Ofsted significantly raised the bar where safeguarding is concerned and in response, we created our new Safeguarding in Education course. Essentially the equivalent of three courses in one, it covers Ofsted's recent changes to safeguarding (September 2015), the inclusion of the Prevent Duty (July 2015) and potential online safety risks.
Awareness of Prevent Duty: From 1st July 2015, schools and education providers have been required to prevent young people from being drawn into terrorism. Staff must know how to identify children who are at risk of radicalisation and what to do if children are identified. This online training course has been specifically written to address these needs.
e-Safety and Social Media: Our updated e-safety course now contains detailed chapters addressing social media and online radicalisation. This course will assist schools in fulfilling Ofsted's requirement for all staff to receive regular e-safety training.
We also offer an unlimited licence package for larger schools at a very competitive price. To find out more about our courses and licence deals, email us on help@childprotectioncompany.com or call us on 01327 552030.
Next time: Safeguarding and school governors