Equipping children to remain safe online: What can parents do?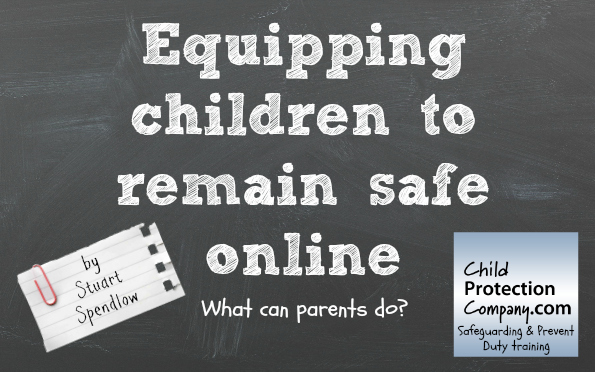 PENGUINPIG author, Stuart Spendlow, returns to discuss more on Internet safety for children. This time, he's focusing on the role of parents and guardians in equipping children to remain safe online, especially the importance of discussion and modelling.
Boys are often stereotypically labelled by the media as 'disengaged with education' or 'unable to stay on task' and they always have been. Of course, this is one of the biggest myths in existence – just sit them in front of Minecraft or FIFA 16 and they'll probably be 'on task' for the next few decades if left to it. Give them Internet access and they'll be engrossed in prank videos on YouTube for so long that they'll miss their 30th birthday. And here lies a great problem facing parents across the world – how do you make sure your child is safe online? Turn off the Wi-Fi? If we don't encourage children to be online, someone or something else will. So it's a good idea if we do it properly, right?
Frustratingly, websites' Terms of Service and User Agreements don't prevent underage use. They're great rules but, like most rules, they're regularly broken, ignored or forgotten. That's just the way of the world at the moment and no amount of monitoring can stop that. As the father of a beautiful little girl, one of my biggest priorities in life is her safety. I want her to be safe and protected at all times, but I'm not too sure wrapping her in bubble wrap is the right way to go about that. When it comes to online activity, technology hasn't quite advanced enough to provide us with digital bubble wrap. Yet.
When we teach children to cross the road, we stress the importance of looking carefully, checking and double-checking – making no move until we're 100% sure that it's safe to cross. The same applies online, we want children to check carefully and only proceed when they're convinced it's safe to do so. The big difference, however, is that we can see the roads and we can shout out when the child has missed the danger. We're there. Right next to them, modelling and guiding them until we're confident that they've sussed it out – waiting until they are indeed master road-crossers ready to be let loose on the M62 (figuratively speaking of course!).
That's where online gets very tricky. We're not sitting there beside them watching them play, browse and explore perhaps as much as we'd like to be. We're certainly not holding their hand as we could be on the kerb. For some parents (and the brave ones will readily admit this) online devices become 'digital dummies' when they need their child to remain quiet for a bit whilst they hoover the stairs. Or clean the Aga. Or polish the cling film dispenser. You know – life gets pretty chaotic at times.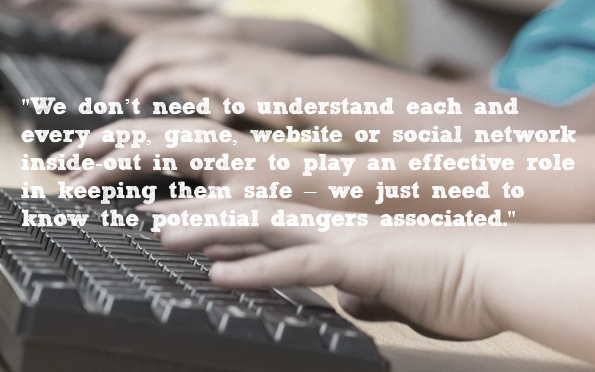 There is no denying that it's vital for us parents to show a genuine interest in our children's online activity. We don't need to understand each and every app, game, website or social network inside-out in order to play an effective role in keeping them safe – we just need to know the potential dangers associated. We need to provide a good role model by:
Letting our children see us using the Internet sensibly;
modelling out loud questions and thought processes (e.g.: "I'm not sure that this website is accurate, let me check somewhere else.");
discussing online terminology such as spam, phishing, hacking, etc.;
reporting/blocking content that we're apprehensive of or threatened by and explaining why;
openly discuss our children's online activity with them as we would their day at school.
Discussing online activity seems a strange concept at first and, let's be honest, sometimes you couldn't care less about how many aliens your little darling has destroyed or how many goals your handsome soldier has scored against Argentina. But, whilst killing the aliens or scoring the goals, it's what they've been discussing or chatting about that you want to know. And with whom. Do they know? Do they think they know?
My advice is simple – spark up a conversation, show interest and model good practice. There's no arguing that they're basic principles of parenting so why not get them incorporated into the digital world?
It's time to put the bubble wrap away and let your child be a highly-aware and skilled free-ranger.